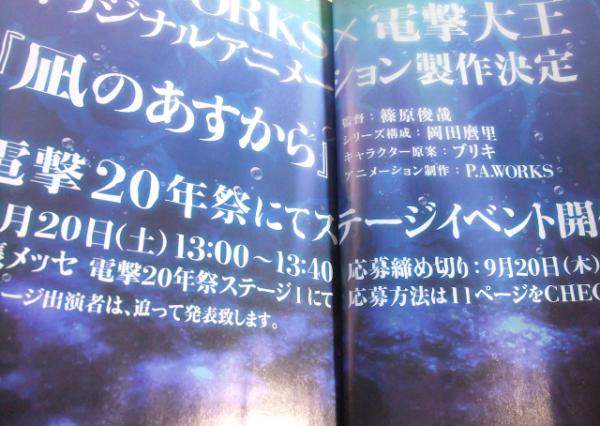 Image via OtaNews, contents property of Dengeki Daioh/ASCII Media Works
An announcement has come via the newest issue of ASCII Media Works' monthly manga anthology Dengeki Daioh, the well-known magazine in which manga versions of such popular series as Toradora! and AnoHana are serialized: P.A. Works' (Angel Beats, Hanasaku Iroha) newest project will be a collaboration with the magazine. The new anime will be called "Nagi no Asu Kara," and some of the best minds in anime will be coming together to produce it. The series will be directed by Toshiyo Shinohara (Black Butler) with script supervision by Mari Okada (AnoHana, HanaIro), and will feature character designs by Buriki (Denpa Onna to Seishun Otoko).
Just from the staff list, it's clear that this will be an anime to keep an eye on. I'm particularly happy that Okada will be on board! The project will be officially "presented" at the Dengeki 20th Anniversary Festival on October 20th, so we should be learning additional information about "Nagi no Asu Kara" at that time. Look forward to it!
Via: Anime News Network and OtaNews. Cover image via JList, copyright Dengeki Daioh and ASCII Media Works.
comments powered by